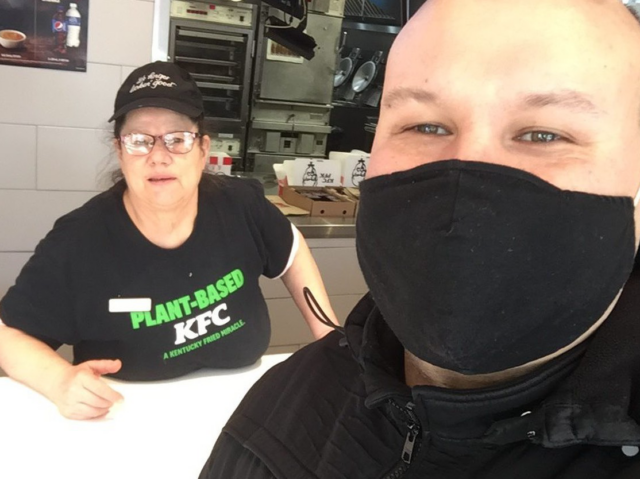 Reading Time:
2
minutes
Colonel Sanders Kentucky Fried Chicken is finger-lickin' good, but that's not the only reason that keeps one Toronto customer from coming back to his favourite fast food joint.
Apart from the food, loyal customer, Jason Schweitzer has formed a special bond with a KFC employee who befriended him when he was just 5 years old.
Every Sunday, Schweitzer and his mom would pop in for a meal. On one of those Sundays, he met Emilia, who has been working at KFC for 46 years. The two quickly formed a friendship. "From being a young boy and hanging out with my mom at the walk-in location at Broadview and Gerrard in Chinatown," he told the Toronto Sun. "When you grow up, and you recognize a face, it becomes a part of your mindspace."
Over his weekly visits, year after year, Schweitzer learned more about his friend. "She came from Portugal, she had no English, and as I was going into high school; I would still have conversations with her. She was always telling me, 'Make sure you don't miss class.' She doesn't have family or children. She just has herself."
A few months back, Schweitzer visited his favourite employee only to find Emilia in a situation with an angry customer.
"He was quite rude to her," Schweitzer said. "I stepped back and minded my business, but I thought, 'How could someone still be here working after all these years?' She still stood there and smiled and wished the person a great day."
Schweitzer took that negative situation and jumped into action, determined to help his friend. He launched a GoFundMe to help Emilia with with transportation, PPE, or medical costs during COVID-19, given she's working on the front lines. The fund has raised more than $21,000 in five days and now has over $25,000.
"She's always left me with a smile. Just great vibes," said Schweitzer, adding he's blown away by the public's generosity in what he calls his quest to support "an amazing human being."