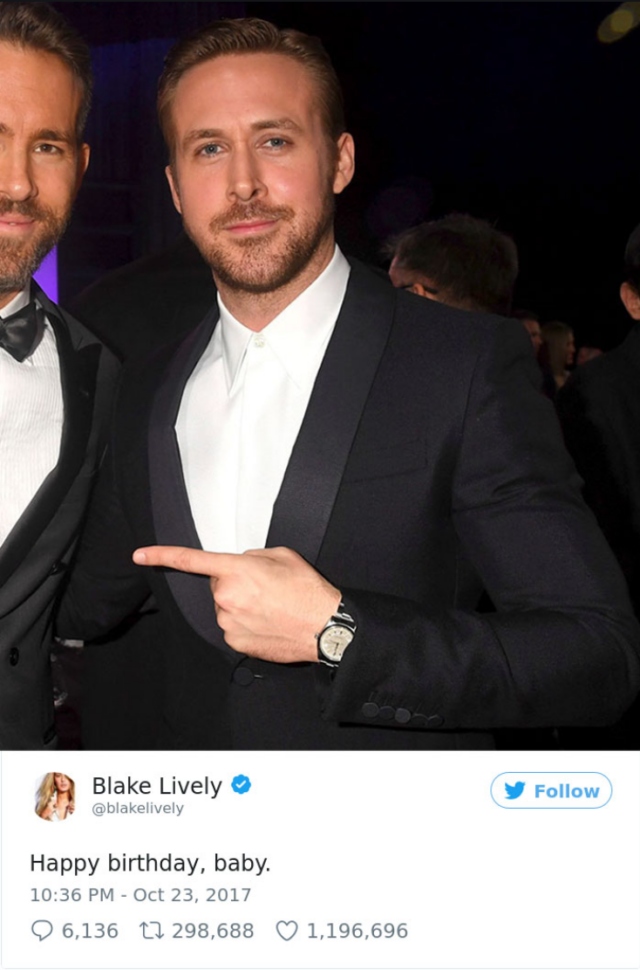 Reading Time:
4
minutes
No silly, I am not calling Ryan Reynolds "my baby" (or am I?). It's an ode to Blake Livey's hysterical Instagram caption celebrating her husbands 41st birthday. Only it wasn't a photo of her husband. It was a photo of the other famous Ryan, Ryan Gosling. Her actual hubby strategically cropped out. This and more are reasons why we love the Reynolds-Lively duo. Because if you can't troll your spouse, really, who can you troll?
And as it happens, today is @vancityreynold's 44th birthday. To celebrate, we have rounded up 7 ways to troll the master troller himself. Actually, scrap that. I don't want my first article about Ryan Reynolds to be remembered as a compilation of ways to prank him. Instead, let us look at what an incredible person our home grown boy is and why he makes us so proud.
For example, while some celebrities have been using their time in quarantine to complain about having to isolate in their castle-sized mansions, Ryan Reynolds and Blake Lively have been contributing to making the world better. Which brings us to number one on our list.
1. His work with work with Toronto Sick Kids Hospital
Reynolds frequently lends his time and donates his dollars to the largest health centre dedicated to improving children's health in the country.
Watch his virtual Q&A with some lucky children earlier this year:
And the awesome Canadian went one step further. Remember the ugly Christmas sweater he was hilariously tricked into wearing by fellow actors Hugh Jackman and Jake Gyllenhaal? Well, Reynolds used it to fundraise for SickKids. The promotional video wraps with photographs of happy children wearing the infamous sweater.
2) He helps feed those who have hit hard times
In March of this year, the Reynolds donated a very generous million dollars to food bank charities, helping feed those in need during the pandemic. He shared the good news over Twitter.
"Covid-19 has brutally impacted older adults and low income families," Reynolds wrote on Instagram and Twitter. "Blake and I are donating $1 million to be split between FEEDING AMERICA and FOOD BANKS CANADA. If you can give, these orgs need our help. Take care of your bodies and hearts. Leave room for joy. Call someone who's isolated and might need connection."
Big heart, right?
3) He owns a gin company. And that gin company gives back in a major way
Reynolds owns Aviation Gin and he announced that for a period of one week in May, 30 percent of all sales will go to out-of-work bartenders.
The actor wrote on Twitter: "Until May 1st, for every bottle of Aviation ordered online, we'll donate 30% of proceeds as a tip to your bartenders – who REALLY miss you btw. Visit https://t.co/elT2zrCgE0 #TipYourBartenders #StayHomeSaveLives pic.twitter.com/77tVacDGBM"
4) He cares about women's rights
Earlier this year, our favourite Hollywood couple gifted $200,000 to the Coady Institute at St. Francis Xavier University in Nova Scotia, a centre that promotes leadership in developing communities and helps to create sustainability amongst Indigenous Women.
5) His family takes action in supporting equality
In June 2020, Reynolds and his wife donated $200,000 to the NAACP. And armed with a new perspective, the parents vowed to raise their three daughters differently moving forward.
Lively wrote, "We've never had to worry about preparing our kids for different rules of law or what might happen if we're pulled over in the car." She went on to say, "We don't know what it's like to experience that life day in and day out. We can't imagine feeling that kind of fear and anger. We're ashamed that in the past we've allowed ourselves to be uninformed about how deeply rooted systemic racism is."
6) He offered a reward of $5,000 to find a teddy bear with dying mother's voice
Mara Soriano spent the few days in Vancouver back alleys, searching through dumpsters and putting up posters hoping to find a precious gift from her mother who died of cancer in last year. The stuffed animal had recording of her late mothers voice that said, "No matter where you are, part of me will always be with you forever. I love you."
Amazing human Reynolds heard about the story and jumped in to help his native Vancouverite. Offering $5,000 to anyone who returns the irreplaceable gift, "No questions asked."
I'm not crying, you're crying.
7) He returns kindness
The Vancouver-born actor, who attended Kitsilano Secondary School for Grades 11 and 12 bought pizza for the entire graduating class after giving a virtual graduation speech.
"Now, I'm probably not going to drop any mics here," Ryan said. "But I can pass on this one little chestnut of wisdom. Something that you might want to start if you're not already doing it. Totally up to you, no pressure, but one thing that's worked for me is practicing some form of compassion every day, whether it's for yourself or someone else, especially for someone else, is good."
The pizzeria that made the 385 pizzas was none other than Nat's Pizza, the very pizzeria which served Reynolds in his high school days. And fun fact, Nat's Pizza also made cameos as pizza props in the movie Deadpool. Owner Nat Bastone said he received the call from Reynolds.
"He had this brilliant idea about wanting to give to the school that he went to, and all the people that meant something to him. He wanted to do something nice because all the kids got shut down for their grad." Of Reynolds' generosity, Bastone said "We should pass it on. Like someone said — don't built a fence. Make your dinner table bigger."
There are so many other examples of the Reynolds-Lively clan spreading goodness into the world. And they do it with such humour and class. So, happy Birthday, Ryan! You make us proud to be Canadian.