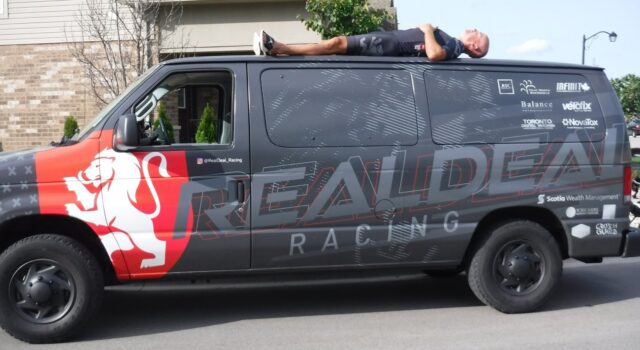 Reading Time:
2
minutes
If you have ever ridden a bike for 9+ hours, you know, it's not easy. Your idea of an endurance ride might be watching highlights of this year's Tour de France; a truly ultra-endurance event. But great news! You don't need to travel all the way to the Pyrenees to witness some remarkable cycling. Ed Veal and his team at Real Deal Racing have put together an event that is pushing people around the country out of the ordinary and into the extraordinary.
On September 11, Ed launched Ride 4 Real, a cycling event to raise funds and awareness for three great causes. Riders across the country are saddling up to support the Forest City Velodrome (FCV), The Multiple Sclerosis Society of Canada, and for a new project called The Real Hero.
The FCV is a non-profit group that runs a one-of-a-kind facility run by a wonderful group of volunteers. The Velodrome is an environment where youth in the GTA can learn and grow in the sport of cycling. The facility relies completely on fundraising to cover the operating costs. For Ed, this is a cause well worth taking on; it's a monumental challenge and ambitious goal.
The event also supports the Multiple Sclerosis Society of Canada. Real Deal Racing shares some stats regarding MS in Canada, most notably that Canada has one of the highest rates of multiple sclerosis in the world. More than 77,000 Canadians live with MS, and an average of 11 Canadians are diagnosed each day.
The last initiative that the event will support is a project called the Real Hero. This is the development of an action hero that sets out to inspire people. In times when contemplating life's big questions, the Real Hero would have you consider, What would The Real Hero do?
"The Real Hero mascot will recognize the unsung heroes of our community with praise, thoughtful gifts and needed support. There are so many Real heroes out there that we want to recognize and celebrate."
Now back to the beginning. 9+ hours on the bike is a challenge on any given day. Ed Veal rode 300km/day for 21 consecutive days to exemplify what extraordinary means. He did not waste a single second waiting for the "right time" or contemplating the possibility of this gigantic feat.
He saw something colossal on the horizon and have been chasing it ever since. Ed's no stranger to testing what's possible. With one world record under his saddle, we support him in his quest to chase his dreams—especially the mammoth ones—for the betterment of others. This event continues until October 31, 2020.