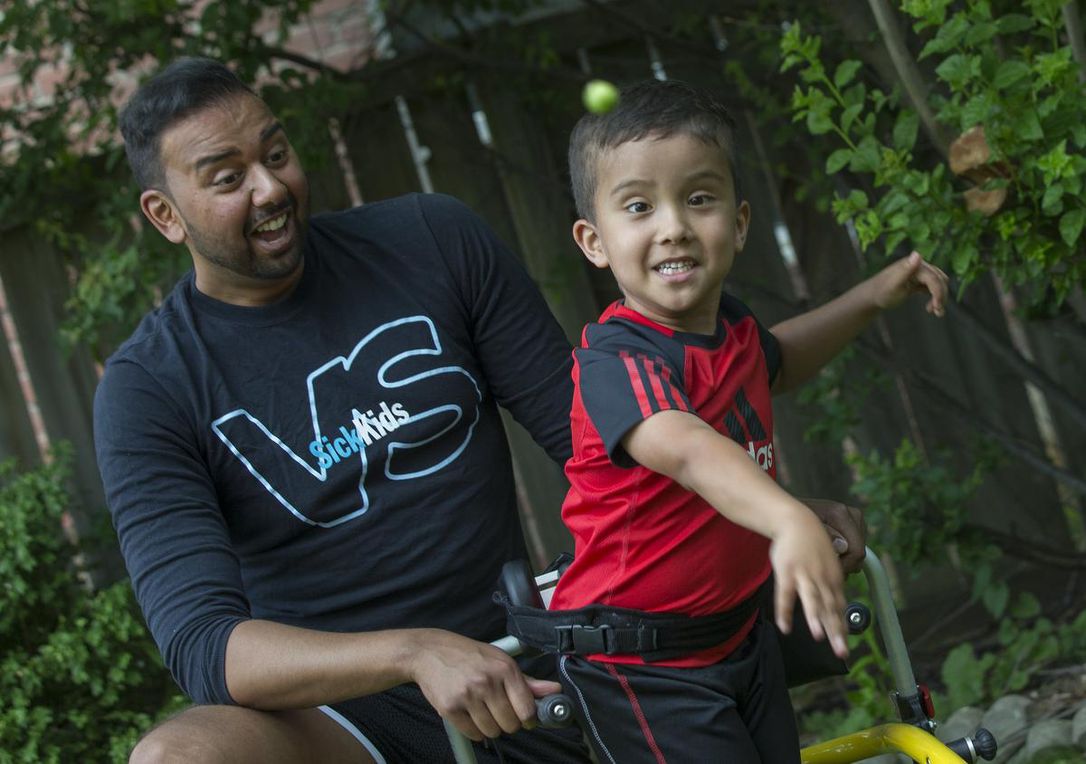 Reading Time:
4
minutes
The goal was never to "fix" anything. He's not broken. He is who he is,' says Prashad, who made custom tap shoes for son Ezra. Now, they're helping other children at SickKids.
Andrew Prashad and his two-year-old son Ezra dance together on a tree stump near their home in Mississauga, Ontario.
It's a sweet father-son moment caught on camera in 2017 — one that would have seemed near impossible two years earlier.
Ezra, now 6, was born with spina bifida, a congenital disability that impacts the spinal cord and the bones in the spine, and hydrocephalus, an accumulation of fluid in the brain. Prashad remembers the moment when doctors told him and his wife, Beth, at 23 weeks pregnant, that their child would never be able to walk.
"I'm a tap dancer," Prashad says, "so it hit me hard because I loved dancing with my daughters, teaching them moves." He would have never dreamed that just two years later, he would be dancing with his son.
From birth, Ezra was a fighter, continually beating the odds set before him. With the help of physiotherapy therapy, at just over a year old, he crawled for the first time. At 18 months, he began climbing stairs. As a toddler, he was able to stand while wearing custom leg braces. Eventually he learned to walk. And then, he started dancing.
"I want to respect his disability," Prashad says. "The goal was never to 'fix' anything. He's not broken. He is who he is. We just want to help him develop as best he can."
Now the Prashad clan, daughters Nyasha, 10, and Sophia, 8, and Ezra all dance together.
Tap dancing is definitely a family affair as Andrew Prashad shares his love for dance with daughters Nyasha & Sophia and son Ezra.
After removing the taps from an old pair of shoes, Prashad made Ezra custom footwear that fit over his leg braces. Prashad remembers the first time his son got to wear them. "The four of us are out dancing," he says. "He's making the sounds with his feet, and he thinks it's amazing."
Prashad — who has performed in the world tour of "Riverdance," is a proud dad and beams at the thought of how far his "miracle baby" has come.
"I want to respect his disability," Prashad says. "The goal was never to 'fix' anything. He's not broken. He is who he is. We just want to help him develop as best he can."
And in order to do that, Ezra needs the freedom to play and move without barriers. Prashad and his wife have been advocating for better accessibility within their community. Before Ezra started kindergarten, they contacted the local school about making the play area accessible for his walker and wheelchair.
Prashad's experience has also inspired him with in dance. He has created a solo show called "One Step at a Time,". "It's about me trying to maintain a career in the performing arts, film, TV and theatre," he says, "but also raising a family, managing a child with a disability and figuring all that out."
Through ticket sales and donations, he's been able to raise $9,300 so far for SickKids and ErinoakKids, where Ezra gets physio, occupational and speech therapy. Ezra also recently became a SickKids ambassador.
"People are always asking how we manage this," he says. "The way we get through it is by taking it one step at a time. When you zoom out and look at everything, it can be overwhelming. But if you just take one thing at a time, it's a lot more manageable."
As for how little Ezra is doing, "He's doing amazingly well," says Prashad. "He wasn't supposed to function below the waist, but after hours and hours of physio and occupational and speech therapy, he's just soaring."
Andrew Prashad's One Step at a Time: A Father's Journeyis currently available as part of Neptune Theatre's Neptune at Home program until October 21. It can be purchased as part of an annual digital subscription or for individual rental. Visit neptuneathome.com for more information.
Read the full article at The Toronto Star.