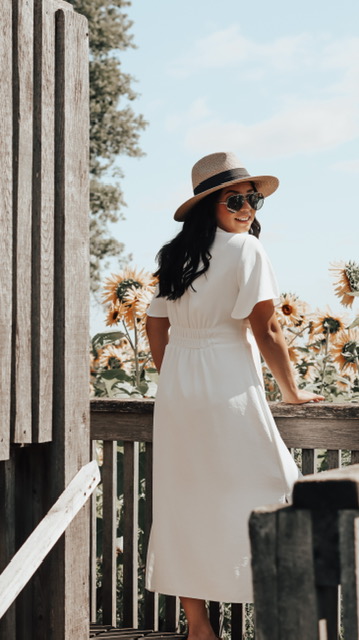 Reading Time:
5
minutes
"My recipe for when you're down is listening, looking inward, and doing what you enjoy regardless of what people think."
Denise Paz is a woman who changed from being a shy introverted woman at the beginning of 2020, to a vulnerable and most-authentic one by the year's end. 
I caught up with her on Dec. 30th (her birthday) so we could learn more about this woman, who made a one-eighty during the most difficult year of her life.
Denise has a three-year-old son. Before he was born, she worked in an office job for an automotive and industrial company. One of her passions however, was and still is, makeup. We'll get back to that in a bit.
When Domi was born, he started to have some health problems so Denise didn't go back to work. She took care of her baby and worked on building her business. Teaming up with her hubs, they started getting into weddings. She would do makeup and her husband would shoot video.
Early in 2020, Denise had a missed miscarriage. A missed miscarriage is one where the baby has died or not developed, but has not been physically miscarried. In many cases, there has been no sign that anything was wrong, so the news can come as a complete shock.
Miscarriage is not uncommon. As many as one in every three pregnancies end in miscarriage. What is uncommon however, is reading about miscarriage, and hearing women share the feelings associated, of which there are many, deep and heart-breaking.
After months of healing, Denise felt the need to share her feelings, in what has solidified a mission of hers, to help others. Her post reads:
The little things you do everyday, no matter how small is a step forward to success.
One of my goals for 2020 was to focus on my mental & physical health, making it sustainable/lifestyle. then BOOM. covid, death in the family/ loss.
After suffering a miscarriage in October 2016 prior to domi AND earlier this year (late feb, a week just before lockdown) (I got both D&C'ed. Also was told in Feb that I've had a septate uterus since I was born— hence the reason for these) That pregnancy took a toll on my body/face.
.
I was striving to focus on healing privately, focus on what I can control, praying on the things I have no control on & eventually be ready to share when I'm ready when it came to my journey.
I wanted to 1st create a healthy lifestyle that in a way, ended up influencing my family as well as some of you!!☺️
.
The importance of awareness, the value of stillness & being present, pursuing your passion no matter what others think, how rest is just as important as hustle, eating mindfully, the value of quality over quantity, what you consume mentally & physically, Limiting social media consumption, the people surround yourself with on the daily & striving to be the best version of ourselves.
.
it's not really what we say, but it's what we do— the action, the process, the example we show that everyone around us & even our little ones pick up from. Dig to the deepest "why" behind the "want". When you identify your intentions, they reveal your values. What truly matters to you?
.
Sharing my journey & being vulnerable is such a big step for me as you know, I'm a private person but I realized how much of an impact & help it gives others, which is one of my whys. To empower, from the physical aspect such as beauty & style down to our health, wellness & inner being ?
I often get messages on how some of you started journaling after seeing my posts, liking my inspiring quotes, & asking for book recos. It makes my heart jump for joy!
.
With it being the last month of 2020, it doesn't matter whether you start working on your goals now or the new year, what matters is what you can do right now.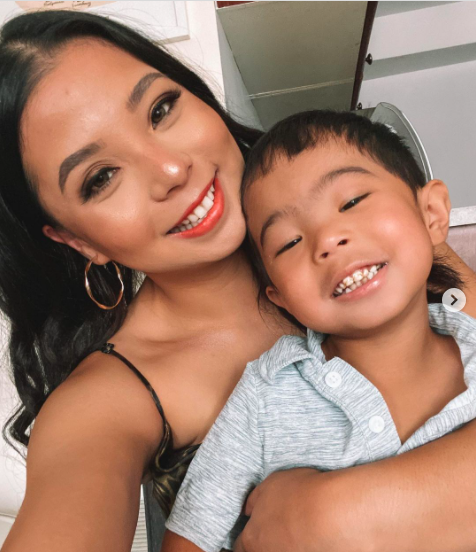 After sharing her story on Instagram, Denise shifted her focus from beauty on the outside to beauty on the inside. After our birthday call, I felt changed. Denice has so many nuggets of wisdom to offer.
What's the best piece of advice you've ever been given?
Denise: Honestly, it's the simplest thing. And I've stuck with it from the very beginning, focusing on the present and the littlest little things. Celebrating small victories. And that's what made me go think, 'Oh, I did 15 minutes of cardio today. Good job!' Those little things, honestly. As cliche as it sounds. It's taking it day by day, focusing on the present and celebrating small victories.
What are some things that people say to you that they think are compliments or advice, but that doesn't land well?
Denise: You look tired. You should rest. Just pray. Don't worry, Don't think about it too much. You can make babies again. People have it worse than you. Just relax. That's one of the reasons why I didn't share my story from the beginning, or I didn't want anyone knowing which because I knew I was going to get those comments, and if I tell them that it doesn't sit right with me. The instinct of people is to give a response right away. But sometimes, all you want is just them sitting there.
I recently trying to not take things personally, you know, hurt people hurt people. And no matter what I've been through before, I try to focus on my lane and I just remember, they're trying to help. I acknowledge and then go about my life.
I am such a different person from before, before I would have been the opposite. I'd be crying. I'd be thinking, 'Why did you hurt me?' but now I see things from a much different perspective. I think 'I hate that this happened to me, but we only have one life and what are we going to do about it?'
What is your recipe for when you are feeling down?
Denise: The first thing I always do is listen to what my body and my mind needs. It's different for everyone. I could, I could say journal write, meditate, run … but everyone's different. So for me, one is to listen to what your mind and body needs. If you need to cool off and be on the side on the corner and sleep. Go ahead. If you need to go run, run outside. Go ahead. If you need retail therapy. Go ahead. But for me it's one listening to your mind and body what it needs.
Number two, doing what you like, or doing what you love. Start doing what you love. When you're done to fill you in. So for me, it's cleaning and purging. My husband's like, 'Oh my gosh, I think she's having her episode again.' It just gives me a sense of refresh and restart. I don't know what it is. But yeah, it's cleaning. So again, it's different for other people. I could just give tons of advice. But again, it's always looking within. And seeing.
Do I know myself, do I love myself. Then I shouldn't be shy. Before I used to be shy to tell people, oh yeah I I love doing makeup because makeup was always such a bad connotation that, 'Oh my gosh, you're being fake and too much makeup' but I enjoy it. But now I see that I'm helping other people teach how to put their eyeliner on, you know what, that's my mission. That's my own goal. I shouldn't care what people think.
So for me, my comfort is cleaning and for some reason, putting on red lipstick. It makes me confident. So I guess I'll do that. That's my recipe for when you're down, listening, looking inward, and doing it regardless of what people think.
We are thrilled to highlight Denise Paz as our first Friday Feature Female of the year. She is wise beyond her years and we hope she lights you up as much she did us.